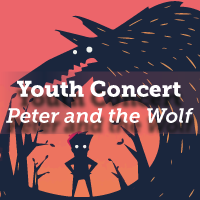 Peter and the Wolf
Wednesday, March 9th
*For the safety of our audience and musicians, face masks will be required of all attendees regardless of vaccination status.
9:15–10:00 a.m.
Red Bluff area schools
10:30–11:15 a.m.
All other Tehama County elementary schools
Scott Seaton, conductor
Linda Watkins-Bennett | Narrator
Yantang Yu, piano | Young Artist Winner
Program:
PROKOFIEV Peter and the Wolf
MOZART Piano Concerto No. 21 in C major, K. 467, I
MOZART Piano Concerto No. 12 in A major, K. 414, I
MOZART Piano Concerto No. 20 in D minor, K. 466, III
HAYDN Toy Symphony
There is no better way to be introduced to the orchestra than Prokofiev's immortal Peter and the Wolf, the symphonic fairy tale that will transform the instruments of the orchestra into different characters involved in a tale of mischief, suspense, and triumph.  Also on the program is Haydn's whimsical Toy Symphony, a piece that just might need your help to complete the melody!  We will also feature our Young Artist Audition winners in a variety of colorful works by Mozart.